Congratulations to Mohammad on the successful defence of his PhD thesis entitled "Computational Study of Two Photon Absorption in Fluorescent Protein Chromophores." If you'd like to view the presentation, see here. Thanks to Prof. J. Kongsted (University of Southern Denmark) for acting as the external examiner – also thanks to the other committee members.
Mohammad using high-tech models to explain conformational flexibility.
Below Mohammad cuts the celebratory cake as his daughters look on in anticipation.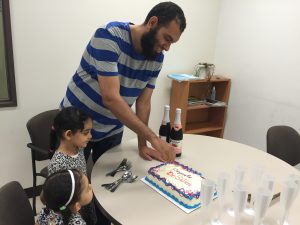 Group after enjoying cake!